How to care for your mosaic
Your Mosaic is ready to hang on the wall almost as soon as you take it home! The grout is fully dried and cured within 24 hours (during winter we do recommend leaving your mosaic for an extra day before hanging).
Here are a few tips to keep your masterpiece looking fantastic in the years to come.
Removing Stubborn Glue from Tiles
There may still be some glue sitting on top of the tiles of your mosaic (Kings and Queens of Glue will know what this looks like!)
It often looks a slightly cloudy white colour, or may have dried as a translucent film.
Glue can always be removed from the top of the tiles. Simply use a damp / wet cloth to wet the glue, leave it to soften for a few minutes and then scrape it off with a popstick (or a stick from the garden).
If the glue is very stubborn, a weak solution of white vinegar and water can help.
Sealing the Grout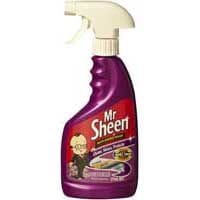 This is an optional step! We use an additive when we mix the grout that helps it to be flexible, mould resistant and to retain its colour.
The mosaic is also made using a 12mm external structural plywood, so it is already weather resistant. Sealing the grout will help further weather proof the mosaic, and has the added bonus of adding shine to the tiles.
There are a number of commercial grout sealants available at hardware stores; however these are usually fairly toxic and must be applied and removed in a very well ventilated area. If you choose to use a commercial sealant, follow all instructions carefully and do not allow children to help with this step.
We recommend a cheaper and more child friendly alternative! Mr Sheen (the furniture polish) contains a silicate sealant and works wonderfully on mosaics. The purple pump bottle is our favourite (but you can use the aerosol version).
Simply spray the liquid liberally all over your mosaic. DO NOT SEAL OR PAINT THE BACK OF THE MOSAIC. The wood is porous, and allows any moisture that accumulates from rain or weather to evaporate out naturally.
Leave for 5-10 minutes to dry (a hazy film will form).
Then using a dry cloth or rag, polish it until it shines!
We recommend repeating this step once a year.
The Edges of the Mosaic
Over time, the grout on the edge of the mosaic may flake away - this is completely normal! If this happens you can sand down the edges and paint them with any ordinary household or acrylic paint! Just the edges though! Leave the back of the mosaic alone.
Hairline Cracks
Mosaics tend to expand and contract with heat and cold (like any building material) and leaving the back of the mosaic unfinished helps prevent the grout develop cracking. If you notice that the cracks are very prominent, please contact us. We may need to re-grout the affected areas.
Cleaning Your Mosaic
Mosaics are very hardy. You can scrub your mosaic with a damp cloth or sponge to remove any dirt or stains. We don't recommend steel wool or stiff bristled brushes as you may dislodge the grout or scratch the surface of the tiles.
Thank you! We hope you enjoyed mosaicing with us
Remember if anything breaks, please contact us!
We will always fix any mosaic that has been done in our classes.