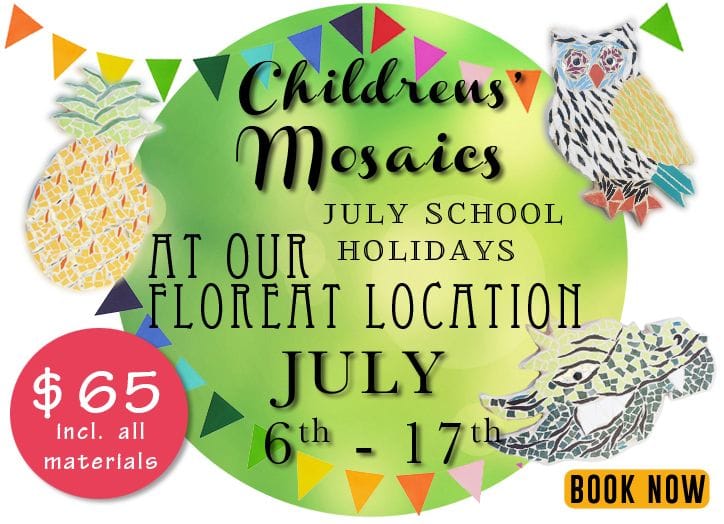 FRIDAY 10th JULY - AM SESSION (9am - 12pm)
Our popular holiday mosaic course for children is held in one three hour session.
Artistic, fun and creative, your child will complete a large mosaic piece ready to take home and hang on the wall.
Children will create and piece their mosaic from a huge range of pre-cut coloured tiles, glass and mirror in a supervised environment.
The mosaic piece will be grouted and affixed with a hook ready to show off to friends and family.
All materials are provided and we include a snack and a drink as a courtesy for morning or afternoon tea.
Children work on tables in groups of 6 with a qualified teacher. All of our teachers hold a valid "Working With Children" registration.
To book, simply scroll down to the box at the end of the page below and enter your email address. You will need to either create a new account, or enter your password if you have previously made a booking with us. If you have forgotten your password, you can retrieve it by clicking the 'forgot password' link and following the prompts.
Don't forget that you will need to choose your mosaic shapes before making a booking!
You can view our template gallery or download the PDF



Venue:
Floreat
Starting:
9:00 AM
Friday 10th July 2015
Ending:
12:00 PM
Phone Enquiries:
(08) 9448 4227
Email Enquiries:
bookings@workshedmosaics.com.au
To Book:

All bookings must be made online through our secure booking system.

We accept payment via VISA or Mastercard

We do not store credit card information.

Cost:
$65.00 per child (includes GST)
Age Requirement:

6 - 14 years

Please do not book children under the age of 5.5 years, as this class is not suitable for them.

Class Size:
Limited to 24 (generally set up as 4 x tables of 6 children, 1 x teacher per table.)
Mosaic Shapes:

We have a large selection of mosaic shape templates to choose from!

Browse our online gallery, or download the PDF

You MUST choose your shapes before beginning your booking!!

Address:

This class is run at our FLOREAT location.

St Nicholas Church Hall
84 - 86 The Boulevard
Floreat (Opposite ANZ / Woolworths Petrol Station at the Floreat Forum)

View Workshed Childrens' Mosaics - Floreat in a Google Map

Facilities:

Enclosed Hall
Toilets (within the Hall)
Air Conditioned
Enclosed Playground
Kitchen with refrigerator

Terms & Conditions:

Terms and Conditions Apply

Please also refer to our Frequently Asked Questions

Please also note that we do not allow Parents or Guardians to stay for the duration of the class.