Mosaic Class Booking Guide
We have recently had an update to our booking system.
You will now need to log in using your email address and a password to make a booking.
Video Guides
Video Guide to Booking
Guide to Booking
1. To book a mosaic class, select your class from our Calendar Page.
You can access this page from the "BOOK NOW" button at the top menu, or clicking any of the banners on our Home Page.

Scroll to the section for the class that you wish to book.
Adult classes are highlighted in BLUE
Childrens Classes are highlighted in YELLOW
Click on the link of the class that you would like to book. Numbers in brackets indicate the number of spaces remaining in the class. These numbers are updated manually (refer to the timestamp notice) and may not be accurate at the time of your booking.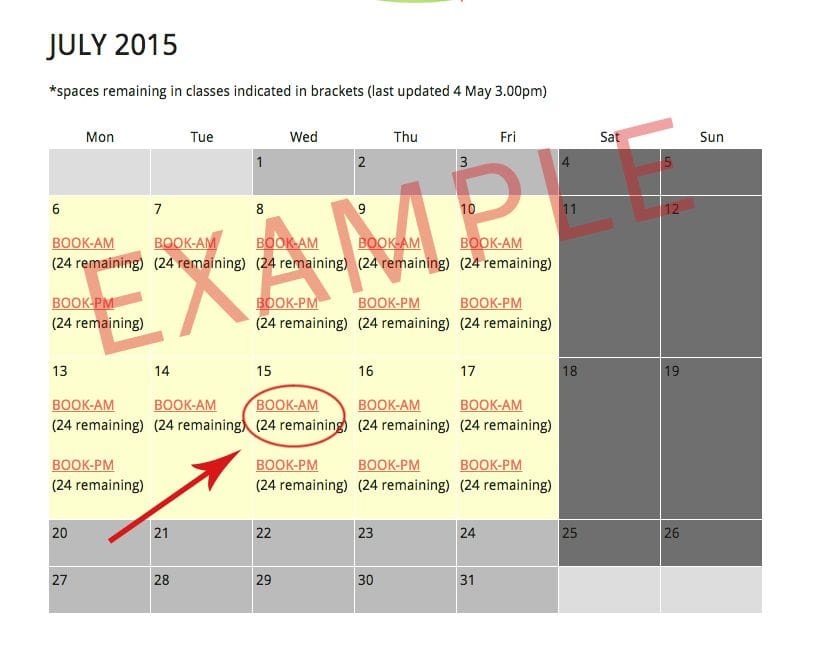 2. Read all of the information about the class, and choose your mosaic shape. When you are ready to book, scroll down to the bottom of the page
a) To register for a mosaic class, we require you to create an account with your email address. Enter your email address into the the box
b) If you are a NEW user (you have not previously booked a mosaic class using this email address), select "I am a new user" - you will be asked to create a password at the next step.
c) If you are a RETURNING user (you have previously booked a mosaic class using this email address) select "I am a returning user and my password is" and enter your password. If you are unsure of your password, or have forgotten your password you can click the "Forgot your password" link and follow the prompts to re-set your password.
d) Select the number of children that you are registering for in the QTY dropdown box
e) Press the REGISTER button.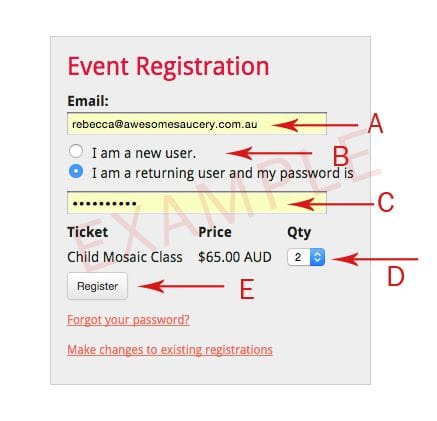 3. A new screen will load and you will now be prompted to enter your contact details. If you are a returning client, some fields will be pre-filled with your existing data - you can update these if required.
a) If you are a NEW user, you will need to create your password at this step.
b) We have included an Emergency Contact field if you would like to add an additional mobile phone number in case of emergencies.
4. If your child(ren) are attending with other children in the same class, you can request that they be seated together. Please be specific and include surnames if possible. We try to seat children in groups where requested, but please keep in mind that this is not always possible.
5. If your child(ren) has an allergy or other issue that we need to be aware of, please let us know. If your child has a disability, please contact us to discuss your requirements before making a booking.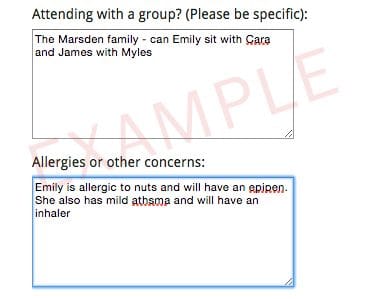 6. Enter the details of the children that you are booking for. Please include their age, as well as the mosaic shape that they have chosen.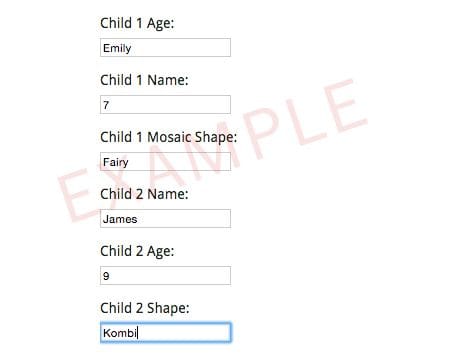 7. Acknowledge the statements at the end of the page by ticking the boxes

8. Click the 'Next Button' when you have finished filling in all of the relevant fields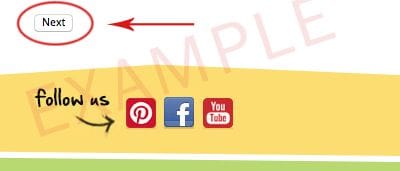 9. A new screen will load asking you to check the details of your registration. Please check
a) You have the correct date
b) You have the correct session time
c) You have the correct number of tickets (number of children you are booking for)
If these are correct, click the 'proceed to payment' button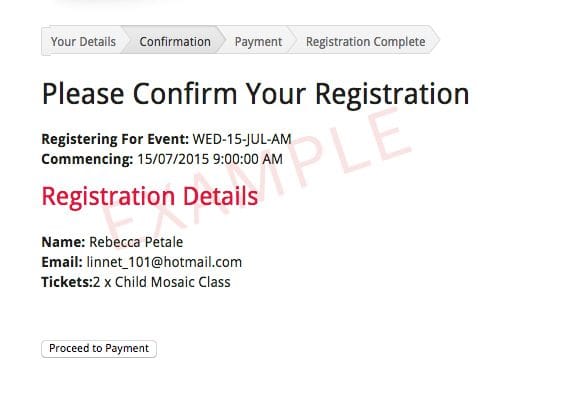 10. A new screen will load asking for your billing details - this will appear on your tax invoice, which you can view and download when logged in.
a) Fill in your billing address details, this is the address associated with your credit card.
b) Select Credit Card as the payment type in the dropdown box and then press the 'next' button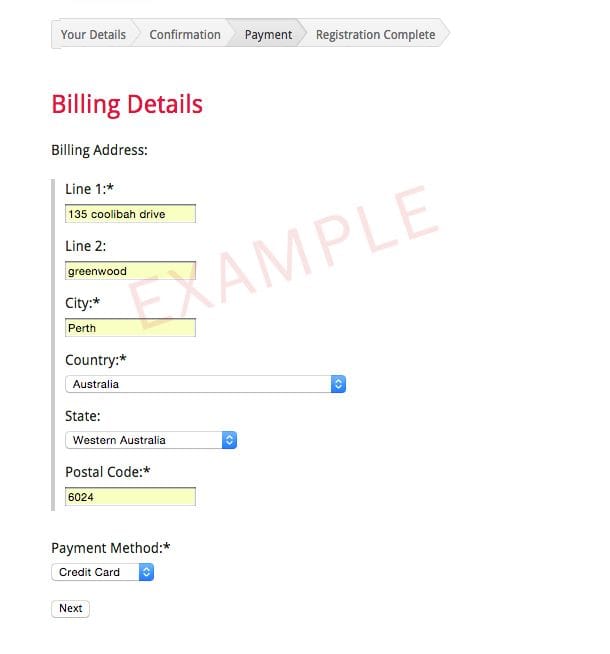 11. A new screen will load. This is a SECURE payment gateway and your credit card details are not stored on our system (the padlock in the search bar shows that our site is verified, and that the payment page is encrypted). We accept Mastercard and Visa.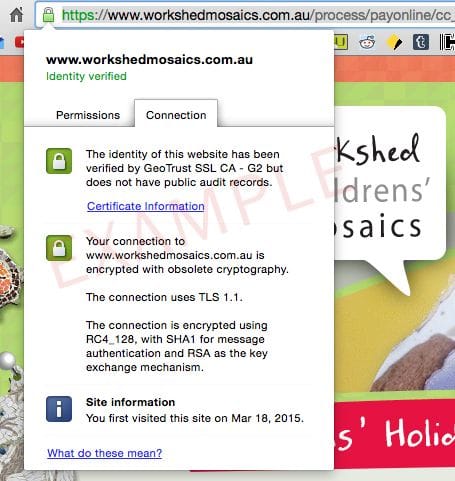 a) Enter your name, credit card details and CCV (the 3 digit code on the back of your card) and the expiry date of your credit card.
b) Press the 'submit' button. Please do not close your web browser while the payment processes.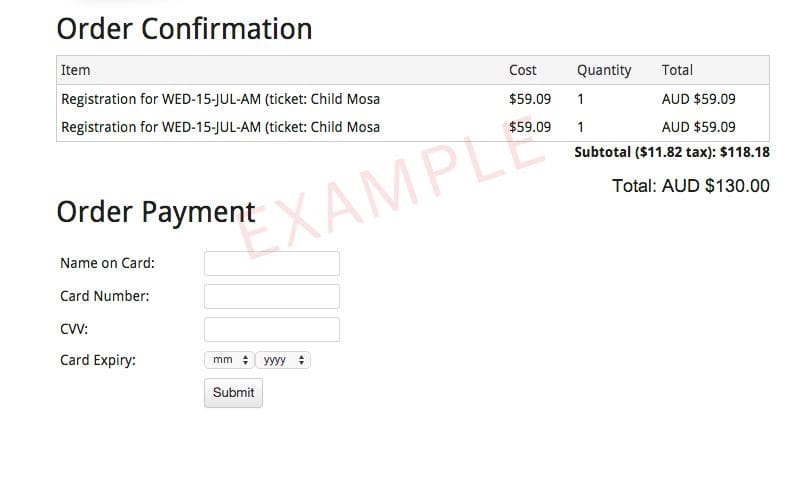 12. You will see a 'Success' message on your screen after the payment has processed and a confirmation email will be sent to your email address. You may need to check your spam filter!